Burning Bridges Quotes And Sayings
The phrase burning bridges refers to severing opportunities or relationships without thinking this through in advance. If you are burning bridges then you are cutting someone or something off, and you can not go back to the way things were before. When you cross a bridge you can always go back the other way, but this is not possible if you are burning bridges and a void will remain because of your words or actions.

no record found!
Quotes
About Burning Bridges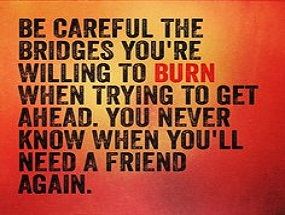 Help Us Keep The Website Going Donate Below.
Stay in the loop!
Subscribe to our mailing list today.